2006 News Archive
3rd October 2006: BAiT support GPS at Queen's Hall, Nuneaton
BAiT played at the Queen's Hall, Nuneaton, yesterday evening in support of GPS. We turned up nice and early and met John Payne (lead vox and bass) and Guthrie Govan (guitar) outside the venue. Whilst we carried our gear in and started to set up off stage, we heard Ryo Okumoto (keyboards) and Jay Schellen (drums) working on their parts for some of their new material. Once they'd finished and we'd set up on stage, we had a chat with Ryo.
Ryo was particularly keen to talk keyboards with Nick and gave a big smile when he saw Nick's keyboard rig set up. Ryo told us he had forgotten some of his Mellotron keyboard samples, so we offered to create him a CD of the samples Nick uses and drop them off at his hotel (the band have been based in Nuneaton for the duration of the tour) - glad to be of assistance.
We went on stage at 20:15 and played a 45 minute set, including the three most recent songs we've been working on (Halfway There, Sunshine Song, and Way To The Flame). There was a good crowd of people there - probably around 150, so we had quite a captive audience. The reception was good and we played well, despite the 'support band's lot', which in our case, meant pretty bad on-stage monitoring, Nick set up off stage on the floor, Chris wedged in between Ryo's keyboards, and Declan confined to a small place at the front of the stage just in front of the drums. Despite these unavoidable circumstances, we just managed to hear enough of each other to play. Audience feedback was very positive after the gig.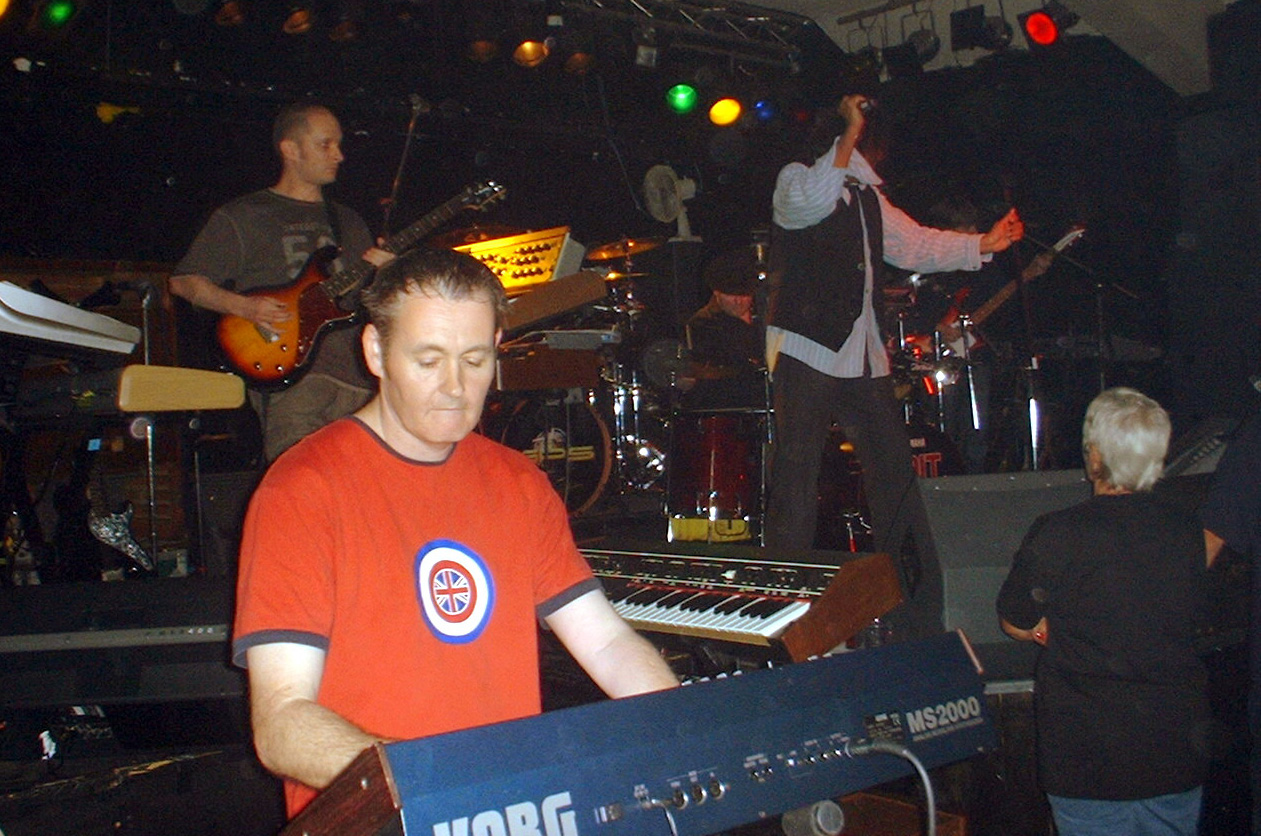 We finished at 21:00 and then there was a short break before Ryo came on stage accompanied by Kiko, playing an Erhu (a Chinese two stringed instrument). They played three or four very nice pieces of music before there was another short break and then GPS took to the stage. Clearly very accomplished, they played a set of songs from the their recent debut album and a couple of Asia songs in a mini acoustic set in the middle of the gig.
Once they'd finished we had another chance for a chat with Ryo and, thanks to Ryo's interpreting, with Kiko.
All the guys in GPS were every bit the pleasant people off stage that you could hope for. No hint of ego, but keen to answer questions on all manner of subjects and up for a joke. We got some pretty good and funny photos with Ryo, before we stopped bothering him. I had a chance to speak to John Payne just before we went. He was every bit as approachable as Ryo and was happy to tell us about his time in the band Asia and the reasons for GPS's formation.
A very good band for those who like their rock good and hard with a certain 'I don't know what', GPS are worth a view. We'd like to thank those involved in setting up the gig for us (namely Simon of DS Promotions) and the guys in GPS themselves for a great night.
Oh yes, and Ryo told us that Spock's Beard will be touring the UK next February - woohoo!
John
1st September 2006: BAiT to Support GPS (ex Asia + Ryo Okumoto of Spock's Beard)
In a recent development, BAiT has been offered the support slot at the upcoming gig at the Queen's Hall, Nuneaton for the GPS gig there on Tuesday, 3rd October.
GPS comprises three members from the most recent line-up of the rock band Asia; John Payne (vocals and bass guitar), Guthrie Govan (guitars), Jay Schellen (drums), together with the flamboyant and amazing keyboard player from Spock's Beard, Ryo Okumoto.
The band is very much looking forward to this gig, especially considering the personnel involved in GPS. It promises to be a great gig for fans of quality music and we would encourage all fans of BAiT, Asia, Spock's Beard, and of course GPS to make a special effort to attend. Tickets are £10 in advance or £12 on the door.
Thanks to Simon of DS Promotions for gunning for us.
10th July 2006: 'De Clan' is five!
Well, we've been quiet for a while, but rest assured we have been busy, and after much ducking and diving, we've finally found our vocalist in the form of a certain Mr Declan Sharma.
Declan comes to the band via a very strange route. In a recent visit to the forums of U.S. third generation Prog band, Spock's Beard (sorry guys - still a godawful name!), John posted to the Members' Music forum to introduce BAiT to fellow SB fans. Oh boy... great was the wailing and lamentation that was heard! Apparently, the forum moderators don't take kindly to new members posting there, and John got a serious ear/eye bashing. Anyway, it turns out that Declan of Prog Pop outfit DaVinci had made the same fatal mistake - gasp! As Declan put it in his first email to John, "They don't like it up 'em, do they!". For the record, the SB forums have now elaborated on the purpose of the Members' Music forum and so future visitors should be spared the rod.
Suffice it to say, Declan expressed interest in meeting up to hear our stuff with a view to doing some guest vocals, only it ended up with him suggesting we concentrate on getting BAiT back on the road. Never a band to argue with such a viewpoint, we are in the process of adding Declan's vocals to the three new tracks we are working on whilst resuming live rehearsals of a new set. Our first gig as the new five piece was a private gig for one of Nick's colleagues and it all went pretty well, so things look like they'll be hotting up in the near future on the gig front.
Expect some new piccies soon!
7th May 2006: Achtung! Freebies!
We've decided to make a few full versions of our tracks available for download, just to whet the appetite of those of you who have still to take the plunge and buy one of our albums.
On the menu, we have four tracks from the Lite Album (2006), three from The Full English (2005), and four from South Of The Delta (2004). Nip over to the Sounds page and get downloading, if you haven't already done so.
Progress on new material is going very well and has given us a bit of an impetus in these dark times when vocalists are thin on the ground. We should be into the recording studio in the next couple of weeks to start work on recording the first three tracks of what will probably become the next album. The plan is to keep creating new material until we find one or more vocalists to put down definitive lead vocal lines for the album. In the mean time, we'll be doing the lead vocal duties ourselves.
23rd April 2006: Singer update and something from the archives
We are still seeking the elusive lead vocalist. Our hopes were raised and then dashed again recently, but we are persevering. In the meantime, we have gone back to getting on with writing new material. We went into the rehearsal studio just over a month ago and just jammed (as bands should do from time to time). Two weeks later, we had 42 embryonic song ideas in the bag.
We've now whittled these down to ten firm favourites and three have so far been developed into full song ideas, albeit with some work to do on the lyrics and melodies.
Given the situation with the singer, we are toying with the idea of recording the next album with a variety of different guest vocalists. If you are a good singer (and by that we MEAN good), male or female, and would be interested in guest vocalling on the next album, drop us a line at . If we like what we hear, we'd just need to borrow you for an afternoon or evening some time to record your part - no long-term commitment required. Successful applicants will of course get a copy of the finished album.
Changing the subject slightly, good old Andy has managed to fish out a video of BAiT's short-lived, but busy, line-up, on one of their trips down to the Smoke.
The video was filmed at the King's Head, Fulham High Street in London and shows the band playing one of the old live favourites, Thought Train. Nip over to the videos page to see more.
8th March 2006: BAiT on the Anita Miah Show on BBC Coventry & Warwickshire
The band made its second appearance on BBC Coventry and Warwickshire radio this evening. This time, we were without instruments and were there both to promote the new album, Lite, and to publicise our requirement for a lead vocalist. Two tracks were played during the course of the show; an acoustic track, In Her Eyes, from the Lite album, and an electric track, Wordsworth, from South Of The Delta.
During the course of the show, a group of women arrived outside the studio - alas, not to audition for the lead vocalist position, nor to buy copies of the new album, but as part of a charity 'moonlight walk'.
The programme went pretty well, and as usual, in case you missed it, you can listen to it right here.
Click here to listen to the show (Windows Media Player required).
Thanks to Anita again for letting us come on her show.
21st February 2006: The Lite Album
Greetings from Granny's and a belated Happy New Year to one and all. New year and new album... there's no stopping those BAiT boys, eh!
2006 sees the fidgety four release their latest and only acoustic album, BAiT Lite (or as it has become fondly known, The Lite Album). Lite features all your favourite songs, but disguised in satin smoking jackets, sporting long beards with monocles, and laced with a strong scent of pipe tobacco. Hurrah!
The album is of course available to buy from this site, either as a download or delivered direct to your door in a discrete package. But seriously, we're very happy with the result. Listen to the clips in the sounds section and then go buy it.
The position of singer remains vacant for the time being. If you fancy a go, then drop us a line at . Exciting times are ahead, so don't miss out on this fantastic opportunity.